In Japan, when you import living animals, it is necessary to report it to the authority. It is also required to report when you imported dead bodies of rodents (mice and rats). 2,137,103 dead mice bodies were imported to Japan in 2013. All of dead mice were imported from China. Those dead mice are considered as the raw materials of foods for other meat-eating pets, like hawks and some reptiles.
Dead bodies of rats are also imported. 109,985 bodies were imported in 2013. 
Figure: Imported dead bodies of mice and rats in 2013
Table: The number of imported dead rats bodies to Japan by exporter (country), 2013
| | |
| --- | --- |
| China | 108185 |
| Czech Republic | 1800 |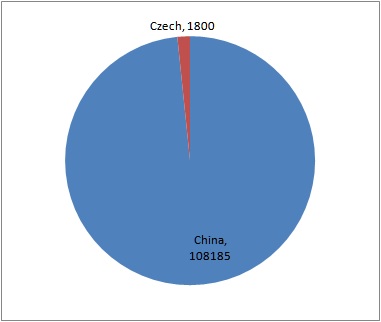 Source is Ministry of Health, Labour and Welfare. 我が国の動物の輸入状況について
www.mhlw.go.jp/bunya/kenkou/kekkaku-kansenshou12/pdf/04e.pdf
Japanese government counts imported dead bodies of rabbits also. In 2013, no dead rabbit was imported. Except them, I could not find statistics of imported dead animals. 
Related Topics