In 2013, the average age of the first marriage in Japan was 30.9 years old for husbands, 29.3 years old for wives. In terms of men, the age of Tokyo residents was the oldest 32.2 (Red area). Prefectures next to Tokyo have high figures.
The age of Fukushima residents was the youngest (Purple area). Only Fukushima has the figue of under 30.0.
Figure 1: Husbands' Average Age of First Marriage by Prefecture 
In terms of women, tendency was the same as mens'. Around Tokyo has the oldest figures and Fukushima has the youngest. 
Figure 2: Wives' Average Age of First Marriage by Prefecture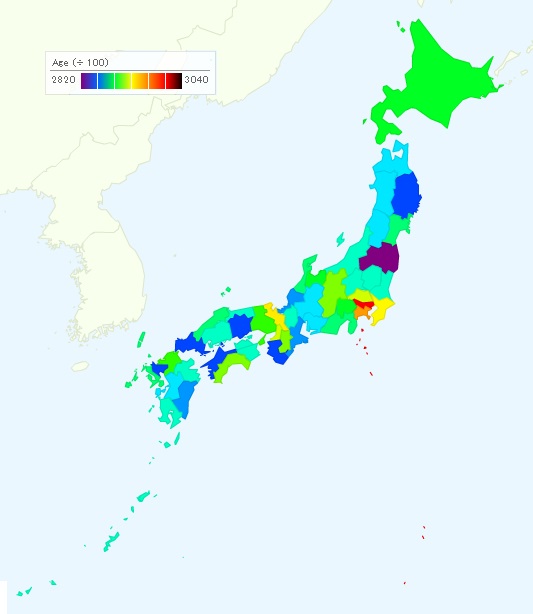 Table: Average Age of First Marriage by Prefecture in Japan 
| | | |
| --- | --- | --- |
| Prefecture | Men | Women |
| Hokkaido  | 30.4 | 29.1 |
| Aomori  | 30.5 | 28.8 |
| Iwate  | 30.3 | 28.6 |
| Miyagi  | 30.7 | 29.0 |
| Akita  | 30.7 | 28.8 |
| Yamagata  | 30.5 | 28.8 |
| Fukushima  | 29.8 | 28.2 |
| Ibaraki  | 30.7 | 28.9 |
| Tochigi  | 30.7 | 28.9 |
| Gunma  | 30.6 | 28.9 |
| Saitama  | 31.3 | 29.4 |
| Chiba  | 31.3 | 29.5 |
| Tokyo  | 32.2 | 30.4 |
| Kanagawa  | 31.7 | 29.9 |
| Niigata  | 30.6 | 28.9 |
| Toyama  | 30.5 | 29.1 |
| Ishikawa  | 30.5 | 29.0 |
| Fukui  | 30.4 | 28.7 |
| Yamanashi  | 30.8 | 29.1 |
| Nagano  | 31.2 | 29.3 |
| Gifu  | 30.7 | 28.8 |
| Shizuoka  | 30.8 | 29.0 |
| Aichi  | 30.7 | 28.8 |
| Mie | 30.5 | 28.7 |
| Shiga  | 30.5 | 28.9 |
| Kyoto  | 31.3 | 29.6 |
| Osaka  | 30.8 | 29.4 |
| Hyogo  | 30.7 | 29.2 |
| Nara  | 30.8 | 29.3 |
| Wakayama  | 30.2 | 28.6 |
| Tottori  | 30.7 | 28.9 |
| Shimane  | 30.5 | 29.0 |
| Okayama  | 30.1 | 28.6 |
| Hiroshima  | 30.4 | 28.9 |
| Yamaguchi  | 30.0 | 28.6 |
| Tokushima  | 30.2 | 28.9 |
| Kagawa  | 30.4 | 28.9 |
| Ehime  | 30.1 | 28.6 |
| Kochi  | 30.6 | 29.3 |
| Fukuoka  | 30.5 | 29.2 |
| Saga  | 30.0 | 28.6 |
| Nagasaki  | 30.2 | 29.0 |
| Kumamoto  | 30.1 | 28.8 |
| Oita | 30.2 | 28.9 |
| Miyazaki  | 30.0 | 28.7 |
| Kagoshima  | 30.3 | 28.9 |
| Okinawa | 30.1 | 28.9 |
Source is Ministry of Health, Labour and Welfare. 人口動態調査
www.mhlw.go.jp/toukei/saikin/hw/jinkou/geppo/nengai13/index.html
www.mhlw.go.jp/toukei/saikin/hw/jinkou/geppo/nengai13/dl/hyou.xls
Related Topics