Here is the top 10 list of favored flowers in Japan (in 2010).
No.1 Rose
Suntory made blue roses with their genetic engineering. To see it, click http://www.suntorybluerose.com/.  
No.2 Cherry tree
This is a tree of spring.
No. 3 Lavender
This is a flower of Hokkaido district.
No.4 Sunflower
No.5 Gerbera
No. 6 Tulip
No. 7 Gypsophila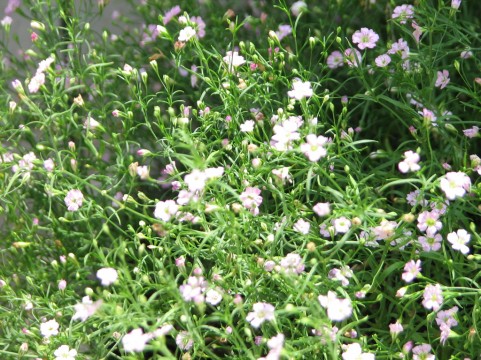 No. 8 Hydrangea
I am not sure you are familiar with hydrangea. It is a common flower as "flower of June" in Japan. 
No. 9 Clematis
No. 10 Viola
Survey was conducted by irisoyama.
The following is the table format list.
| | | |
| --- | --- | --- |
| Rank | Flower |   |
| 1 | Rose | バラ |
| 2 | Cherry Tree | サクラ |
| 3 | Lavender | ラベンダー |
| 4 | Sunflower | ヒマワリ |
| 5 | Gerbera | ガーベラ |
| 6 | Tulip | チュリップ |
| 7 | Gypsophila | カスミソウ |
| 8 | Hydrangea | アジサイ |
| 9 | Clematis | クレマチス |
| 10 | Viola | ビオラ |
Related Topics