2017 March 30 updated
There are three types of Tokaido Shinkansen (Bullet trains). One is Nozomi (meaning HOPE) which is faster and expensive, Others are Hikari (LIGHT) and Kodama (ECHO) which are cheaper, stop frequently. 
Here is the fare table for Tokaido Shinkansen of Nozomi (expensive) version. It includes Sanyo Shinkansen's fare. You can find Shinkan-sen's ticket price in the table. 
For short-stay foreign visitors, JR Rail Pass is the first choice to use Shinkansen with reasonable cost. 
The entire table can be downloaded from TOKAIDO/SANYO SHINKANSEN "NOZOMI" FARES. 
How to read the table:
In the following table, red square means basic fare, blue means surchage, green means "non-reserved seat (you may have to stand up for 3 hours in a train)". At least you need "red+blue" or "red+green".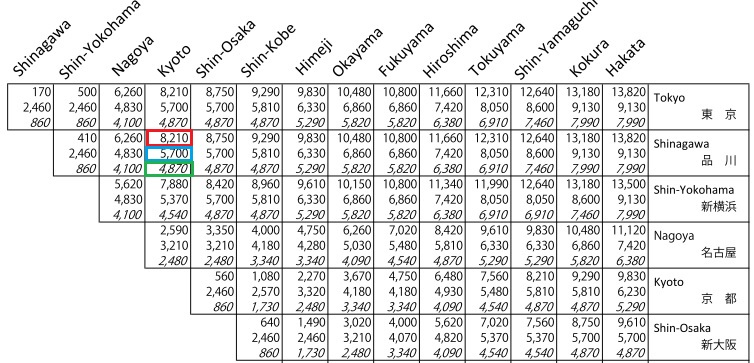 If you want to go to Kyoto from Shinagawa, see the cross point of the both stations (please see the next table). In this case, the price is 13,910 yen (8,210+5,700).
 ---------------------------------------------------------------------
The table for the cheaper service (Hikari and Kodama) is available from TOKAIDO/SANYO SHINKANSEN FARES & SURCHARGES(¥).
You need both of red and blue for this service. For the following case (Shinagawa to Shizuoka), your fare is 3350+3000=6350 yen.
Important Note:
Surcharges vary according to seasons. In the peak season you need to pay more 200 yen in addtion to the regular price. In the case of Shinagawa to Kyoto, you have to pay 14,110 yen (13,910+200). In the off-season 200 yen is discounted from the regular price.
The following is the "season" calendar. Blue indicates Off season, Pink indicates Peak season. 
Calendar
2016
--------------------
These tables cover the following stations;
Tokyo 東京

Shinagawa 品川

Shin-Yokohama 新横浜

Odawara 小田原

Atami 熱海

Mishima 三島

Shin-Fuji 新富士

Shizuoka 静岡

Kakegawa 掛川

Hamamatsu 浜松

Toyohashi 豊橋
Mikawa-Anjo 三河安城

Nagoya 名古屋

Gifu-Hashima 岐阜羽島
Maibara 米原

Kyoto 京都

Shin-Osaka 新大阪

Shin-Kobe 新神戸
Nishi-Akashi 西明石

Himeji 姫路

Aioi 相生

Okayama 岡山

Shin-Kurashiki 新倉敷

Fukuyama 福山

Shin-Onomichi 新尾道

Mihara 三原

Higashi-Hiroshima 東広島

Hiroshima 広島

Shin-Iwakuni 新岩国

Tokuyama 徳山

Shin-Yamaguchi (formerly Ogori) 新山口

Asa 厚狭

Shin-Shimonoseki 新下関

Kokura 小倉

Hakata 博多
----------------------------------------------------------------
Related topics: