101,782 students graduated from senior high schools in Tokyo in 2018. 64.7% of them entered colleges/universities. 19,000 persons were enrolled in other type of schools, such as a vocational school. 7,000 took jobs. 9,900 had not determined their destinations (some are studying to go university next year, others are searching jobs). Here are the statistics.
It does not include persons;
Some people in "other" category will enter colleges next year. So the stats are rough indication.
Figure: College-Going Rate and Employment Rate of Graduates in Tokyo, 2018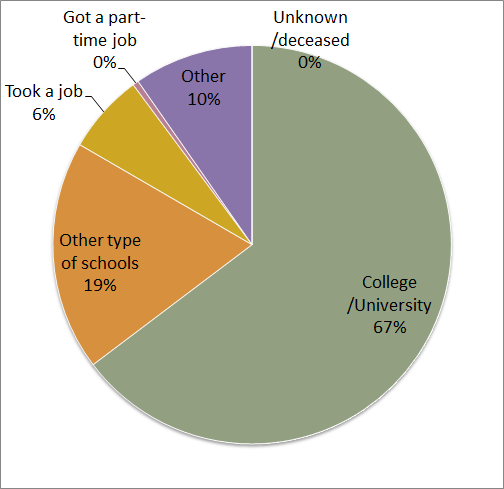 Table: College-Going Rate and Employment Rate of Graduates in Tokyo, 2018
| | |
| --- | --- |
| Next career | Number |
| College/University | 65,863 |
| Other type of schools | 18,993 |
| Took a job | 6,567 |
| Got a part-time job | 489 |
| Other | 9,860 |
| Unknown/deceased | 10 |
|   |   |
Source is Tokyo Metropolitan Government. 平成30年度 学校基本統計(学校基本調査報告書)
www.toukei.metro.tokyo.jp/gakkou/2018/gk18qg10000.htm#kousotu
区市町村、状況別卒業者数、大学等進学率及び卒業者に占める就職者の割合(総数) 
www.toukei.metro.tokyo.jp/gakkou/2018/gk18qa1511.xls
Related Topics